CUSTOM TAILORED
Shopify App Based On Your Business Needs
We provide custom and scalable Shopify apps based on your business requirements. At Meliora, we help our stores reduce their purchase friction, provide better operational services, increase customer loyalty and LTV through the development of both public and private Shopify apps.
FAQs
How long does it usually take to build a Shopify store?
Timelines could vary significantly depending on your Shopify store plan, the required features, size, and scope of your store, and the complexity of the added features you would need to perform at the highest level. To get a quote about your specific store, book a free consultation with our Product Manager, and he would get all the answers you need. Context, the scope will receive an estimation.
Will my Shopify store be secure?
Shopify is certified under the Level 1 PCI DSS compliant, covering all six categories - ensuring the highest security of payments, user data, and merchant information. If you have any specific questions or issues you are concerned about, contact us via the Contact form, and we could discuss possible solutions.
What is the cost of redesigning an existing Shopify store?
Each store's needs are individual and based on their scale and business goals. You could book a free consultation with our Product Managers and discuss your specific needs. You could also book a paid Discovery Session where a group of specialists would provide you with a detailed breakdown and solutions to your needs.
What process do you follow to build a Shopify store?
Our extensive experience has led us to develop an internal goal-oriented framework that guarantees results. We also adhere closely to the Shopify Polaris guidelines for better store design. The general steps that we follow are:
Free consultation - a 15 min chat with one of our Product Owners so that we could assess your general needs and provide quick solutions on the spot.
Discovery session - if you need a more detailed consultation, you could book a discovery session with our team and go in-depth for specific solutions and products. Contact us for rates and details.
Product Scope and Brief - once we start the project, we provide you with complete documentation set to pinpoint the project needs and the final outcome.
Design and Development - We execute the project and keep you up to date with our progress on weekly and monthly progress meetings.
Maintenance and Growth - Once an app or a website goes live, we provide technical support to guarantee that things would run smoothly. Afterward, we provide a range of services to ensure the app/website's success, such as SEO/CRO and Digital Marketing.
What process do you follow to build a Shopify store?
Yes, we do. As a 360° Shopify agency, we provide a wide array of digital marketing services for your Shopify store. These services include:
Niche research
Quality content development
Conversion rate optimization
Data analysis
Social media marketing
Will my Shopify Store have good online visibility?
Many factors directly impact your store ranking among your competitors on search engines and social media. Mainly it is the type and quality of content you are generating and its frequency. We offer SEO/CRO strategy and execution along with a complete set of Digital Marketing services. Book a free consultation to find out more.
"We at Meliora believe in a world where every online shopping experience is easy and pleasant to use. Our mission is to make this happen!"
Book Your Free Consultation
Just sign up with your email! We would gladly help you clarify your needs and consult you on the best practices of how to attract more customers and grow your online revenue.
Book Now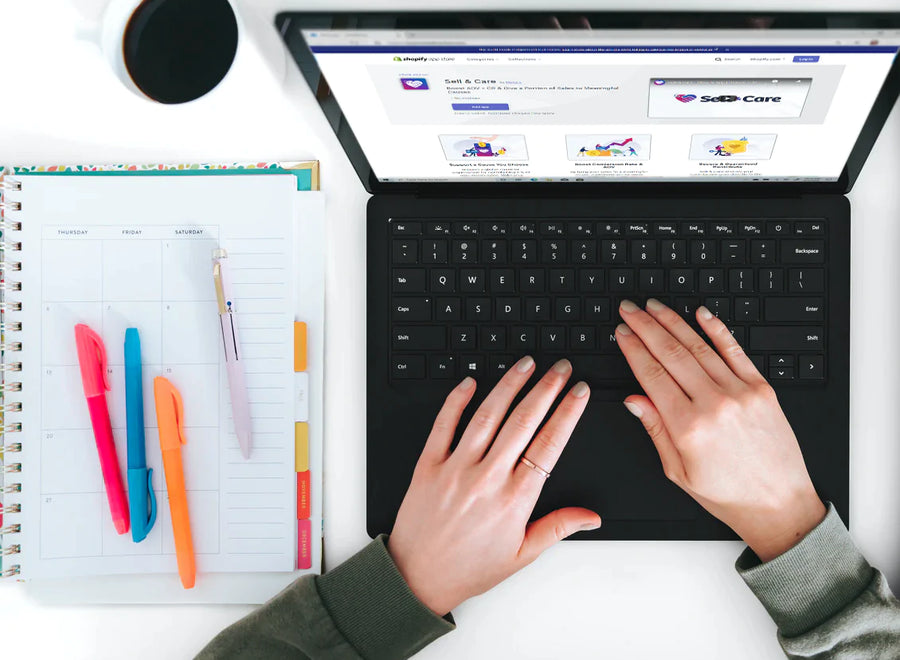 Sell & Care
Shopify App
We have spent over 20 weeks on the development of the Sell&Care app allowing each of the U.S. and Canada based Shopify merchants to support one of 41 charity organizations with specific global importance (Wounded Warrior Project, UNICEF, World Central Kitchen, Doctors Without Borders, and 37 more)! What makes this app unique is Shopify store merchants' ability to adjust the donated amount for different products, hold campaigns, and display this information on their storefront.
View Full Case Study
What Our Clients Are Saying

Review
I need a Shopify Guru for building an app for my organic food brand

5.0 Aug 20, 2020 - Sep 1, 2020
"I must say that Mladen is a TOP expert in building custom Shopify software! The results of his work are even more than I was dreaming of! I highly recommend his services if you need quality and unique design in one and the same place!
He's a very supportive and the communication with him is a real pleasure! We will continue working together for sure!"

Review
Looking For Shopify superhero to build my beauty brand website

Mar 15, 2020 - Mar 22, 2020
"Great results that's worth it the money. Mladen is a perfectly prepared expert, we had great communication and feedback. Shopify master that has a friendly attitude, delivery on the exact time with all the required elements. He even offered me a cleaner vision that helps my store to be more high-converting. Our first free call was very useful and important to frame the problems and my exact needs. As a Shopify master he gave me bonus advice for the marketing strategy I'm using."

Review
Shopify Developer for Professional Fashion Startup Design and Logo

Jan 23, 2020 - Jan 30, 2020
I must say that Mladen is a "Outstanding work and communication. The initial talk was with great added value. Five stars for Mladen and I will come back with more work in the future!

Review
Consultation for SEO for brand-new Shopify website

Nov 25, 2020 - Dec 12, 2020
"I can't find enough words to thank you, Mladen, for the fantastic job with my website! For sure, SEO is one of your talents, and I'll gladly work with you again! Great attitude, professional advice, and a friendly working atmosphere!"

Review
Woocommerce to Shopify migration

Nov 24, 2019 - Dec 4, 2019
Excellent delivery, pace, and communication. Will be using again for sure! Thanks!

Review
Seeking for a SHOPIFY NINJA - e-commerce genius!

Aug 29, 2019 - Sep 2, 2019
Mladen is an absolute Shopify wizard! Within the first minutes of our initial consultation session, Mladen was able to give me a lot of Shopify insights, dig deep in our project and business needs, clearly communicate his plan for action. Everything went smoothly and as promised. I will definitely seek his expertise again in the near future. Thank you so much for all your help.